Moving Services
RESIDENTIAL MOVING SPECIALISTS
Our rates don't increase on weekends like many other companies .
Clean trucks equipped with floor protection, heavy duty moving blankets, and all of the necessary materials and tools to complete your move.
Need Packing?
Trust our crew to professionally pack your home, whether it be just the kitchen or the entire house.
Moving out of state?
Hire us to pack and load rental truck. We can bring all the necessary materials to ensure your items arrive safely.
Doing home renovations?
Hire us to pack and load your on site storage container or POD. When the renovations are finished we can come back and set up all of the furniture to your liking.
Need self storage?
We can recommend a facility as well as a unit size. We've moved hundreds of Long Island families in and out of self storage over the last 10 years.
Attention to detail
Our crew members are trained, uniformed, full time employees, many of whom have been with us for years. Our movers are meticulous when it comes to wrapping and protecting your furniture with a variety of different materials.
The crew is equipped with tools and each member is skilled in furniture disassembly and reassembly.
Blue Collar Moving℠ will protect your flooring, pad and wrap all items, and provide minor assembly and disassembly of your furniture – all at one low rate that will never increase after your job is underway.
Many of our customers have complimented us by saying we provided them 'white glove service' at 'blue collar pricing!' …We will deliver that same type of service for you.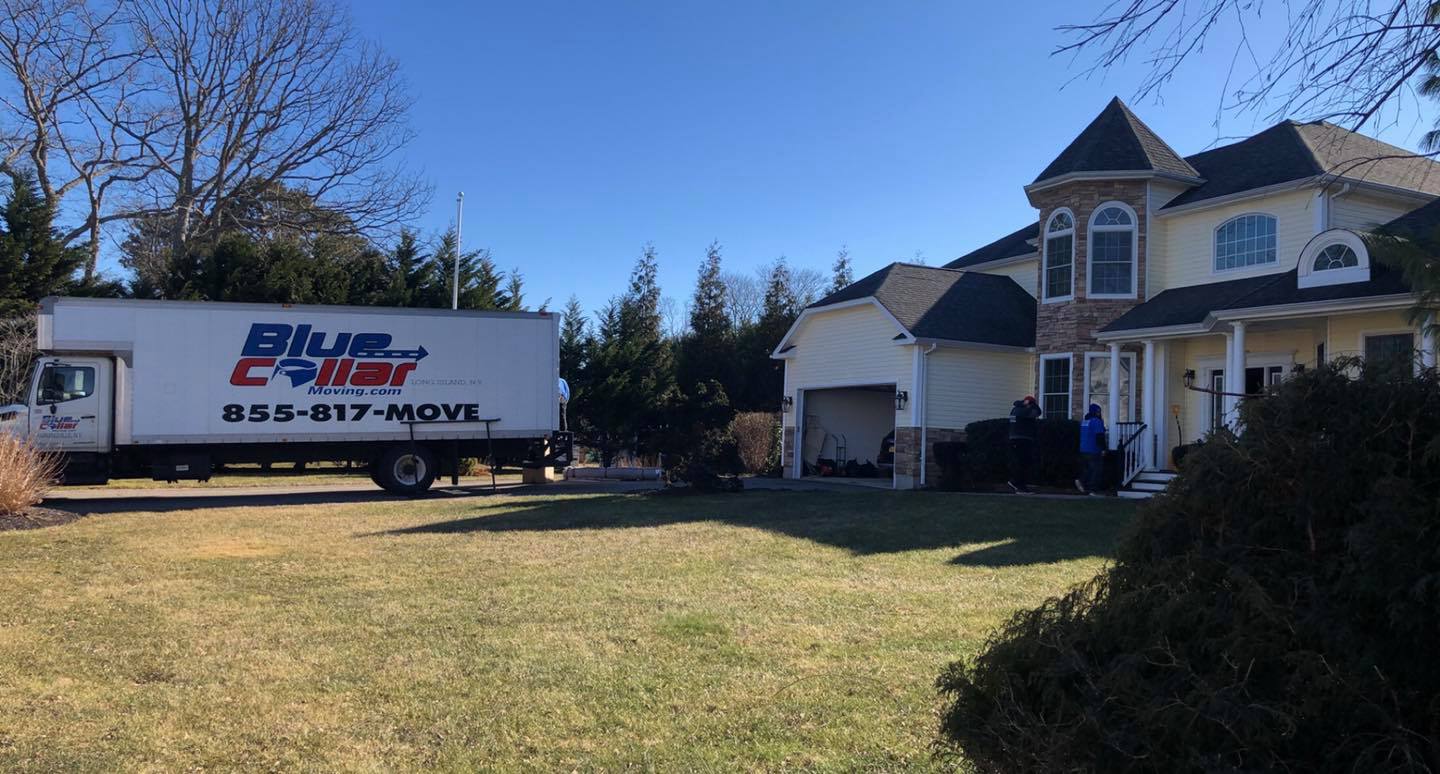 AFFORDABLE PEACE OF MIND
When it comes to moving, you usually get what you pay for. If a company is willing to do your move for considerably cheaper than any of your other quotes, it should raise a red flag. What corners will they cut? Will they send trained professionals? Will they use the right protective materials?
GET PRICING FAST WITH A CONSULTATION!
3 ways: In home, virtual (FaceTime), telephone
For full house moves, an in house estimate is our preferred way of giving you the most accurate quote. In Home estimates are conducted by owners of the company (not salesmen), therefore availability can be limited, especially during peak moving times.
Virtual or FaceTime estimates became popular during Covid and offer added flexibility for connecting. FaceTime estimates are great for small or medium sized moves. Please note, Connecting to WiFi is recommended for this.
For small moves a telephone estimate may be adequate. We will gather as much information as possible over the phone and ask you to text or email some pictures as well.